swift in a shared cockpit (co-pilot observer OBS mode)
swift can be used in a Shared Cockpit scenario, with one of the two pilots connected as co-pilot.
the PRIMARY pilot has to connect just as usual in ''Normal mode'' and with the planned callsign for this flight. This pilot will show up as normal to everyone else on the network
the SECONDARY pilot must

connect in ''Observer (co-pilot)'' mode. Doing so will prevent the secondary pilot to be shown online
add an additional character to the callsign used for this flight. This will stop the primary pilot's aircraft be shown in the flight simulator of the secondary pilot and the other way around
Partner callsign
To have the secondary pilot receive text messages, add a partner callsign in the Advanced Login Popup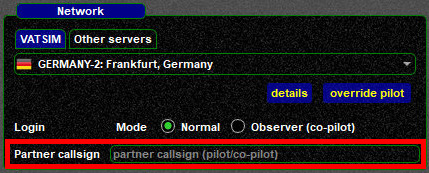 Troubleshooting
If the primary pilot observes the secondary pilot's plane following, then most likely the 2 callsigns were not setup as described above.